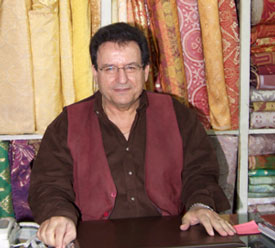 Hazakis Bros Company was founded in Thessaloniki, in 1972, by John Hazakis.

The declared goal of our company is the manufacturing of high quality products for priests and churches, based on the long-term values and principles of the Orthodox Christian Tradition.

Our vertically integrated manufacturing facilities specialises in the production of Bishop and Clerical Vestments, Bronze and Aluminium liturgical Staff and Woodcurved furnitures.

During the past three decades, we achieved lasting customer satisfaction through innovative products, competitive prices, unassailable quality, reliability and integrity. We very much based this success on a proud team of highly trained and service – oriented Professionals as well as on the effective organization of our production.

Assuring you of our out-most cooperation, we hope that our internet site fully meets your expectations. If you need any assistance or if you have any suggestion for improvement, simply contact us and our personnel will be pleased to offer you any help or advice you may need.
Sincerely Yours
John C. Hazakis
Chief Executive Officer